Only from Netvibes:

Dashboard of Things

Welcome to your programmable web

Monitor, analyze and control everything in your Internet
Netvibes Potions: You pick the triggers and actions.
Your dashboard makes the magic happen.

Programmable
Whether personal, professional or industrial, Netvibes dashboards build your own Internet. Now with DoT, you can program your data, social networks and some devices to automate activity across your Internet. Welcome to your programmable Netvibes.
Programming
Potions do your bidding, like magic. You choose the triggers and actions, and your dashboard obeys: e.g., If A or B triggers happen, then do X and Y actions; otherwise do Z. Programming for everyone.

Programmers
Hack your own Potions. Anyone can instantly create a new Potion with Netvibes' easy-to-use wizard. Technical users can switch to advanced mode to write their own Potions from scratch, using Netvibes Programming Language. Programmers' heaven.
Example Potions you can create

Stock Monitoring
When your stock exceeds a set price, send yourself an email and tweet the stock price.

Reading list building
When articles or tweets mention your company, add them to your reading list on Pocket.
Social Media Monitoring
When your best friend posts something on Twitter, Facebook or Instagram, email it to yourself.

Health Tracking
When you weigh yourself on your Internet-connected smart scale, congratulate yourself on Twitter if your weigh is within your target range. Otherwise, email yourself to keep trying.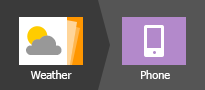 Weather Forecasting
When it's going to rain, text yourself to bring an umbrella.

Plant Care
When your Parrot Flower Power detects low moisture in the soil, send a Pushbullet notification to "Water the Plants" and email yourself a reminder.
Read media coverage about the Dashboard of Things